Each night when I tuck my kids into bed (or send them to bed, as is the case more often as they get older and are in less need of tucking) I tell them I love them. They tell me they love me too, I turn the lights off, and I head to my easy chair to grab a few moments of quiet. Sometimes they stop me before I make it out the door to ask a question about the mysteries of life or a particularly knotty theological issue because they know full well I can't ignore such questions. But most of the time it is a simple exchange of "I love yous" and then sleep.
You know what never happens when I put them to bed? It never happens that I tell them I love them, give them a hug and kiss, turn to leave their room, and hear "Do you still love me now?"—as if my love somehow changed or departed in those few seconds. They know that my statement of love was not just true in the moment I said it, but that it was a statement of how I always am toward them. They know that it will be true in the middle of the night, the next morning, and when they are grown and moved on. Yes, they need assurances and reminders, especially when they screw up. But what they hear in the phrase "I love you" is "I have loved you, I do love you, and I will love you." 
How much more should we hear God's words in that way. My love for my children is flawed, incomplete, and demands that I repent to them often for my failures. Sometimes they need reminders that I love them because I failed to show it well. God never has to repent because he never sins or fails. He doesn't have good days and bad days. He never changes or goes back on his word. And that means that every word God says about himself carries a promise in it.
So when God says something about himself in his word, it is assured to be true, to have been true, and to always be true. When he describes himself, it is a promise. When he speaks of his deeds, it is a promise. When he declares his love or protection or presence, it is a promise. And when he says he will keep his promises, it is a promise. 
And it is God's promises, found in Scripture, that are the source of true happiness, direct our hopes, and shape our expectations—or at least they should. 
So let's take a look at some of them.  
Promises for the Present
What promises has God given us for right now, as we live in this in-between place full of conflicting joys and pains? These words of God shine light into dark days and are bringers of happiness of the purest, rightest, most holy kind. 
While God's promises are too deep and profound to be placed neatly into buckets addressing different needs, he does care about our present struggles and his words are for those moments when life is difficult. So here are just some of God's "promises present" for whatever it is we're feeling or facing.  
Fearful
While most of us don't go through life fearing for our well-being because of enemies, we all fear people. We fear gossip. We fear injustice. We fear the consequences of doing what's right in the face of injustice. We fear looking foolish and being humiliated. And we need this sort of reminder of just who is in charge and who holds our lives.
God promises:
The Lord is on my side; I will not fear.
What can man do to me? (Psalm 118:6)
Worried
We worry about our health or our children's future. We worry about how we'll pay off debt or whether our new business will succeed. We worry that our country is going to hell in a handbasket and taking us all with it. And some days we wake up with a general sense of dread and fear. We control so little of our lives, and it can be paralyzing when we begin to think about all that could happen. God promises: 
6 Do not be anxious about anything, but in everything by prayer and supplication with thanksgiving let your requests be made known to God. 7 And the peace of God, which surpasses all understanding, will guard your hearts and your minds in Christ Jesus. (Philippians 4:6-7)
Confused
When life is difficult and we are suffering, the first question we ask is "Why?" Why would God ordain things to happen like this? Most of the time we won't get a complete answer to that question. But God does tell us of at least one purpose for every difficulty, and in purpose there is clarity and hope. God promises:
3
Blessed be the God and Father of our Lord Jesus Christ, the Father of mercies and God of all comfort,
4
who comforts us in all our affliction, so that we may be able to comfort those who are in any affliction, with the comfort with which we ourselves are comforted by God.
5
For as we share abundantly in Christ's sufferings, so through Christ we share abundantly in comfort too. (2 Corinthians 1:3-5)
Overwhelmed
When everything has hit the fan and life is too much, God gives us what we need for that too. We can find safety in his strong presence. He gives us pictures of security for us to envision, like this one:
The name of the Lord is a strong tower;

the righteous man runs into it and is safe. (Proverbs 18:10)
Shame, guilt and doubt
Some of us need present promises for another sort of struggle—one interior to our souls. It may be a battle with shame and guilt, the feeling you can never be forgiven for sins you have committed. Or a struggle to feel that God is there at all. Or a feeling of being unworthy, not good enough to be God's child, and wondering if you are really saved. God speaks to us in these struggles as well. 
The Lord is merciful and gracious,

slow to anger and abounding in steadfast love. Psalm 103:8
If we confess our sins, he is faithful and just to forgive us our sins and to cleanse us from all unrighteousness. 1 John 1:9
Alone
One of the most powerful realities for Christians is that Jesus is advocating for us. He is on our side. He has won us through his death and resurrection and will not let us go. He is with God, talking to God on our behalf. He is interceding with God, in his own name, for us. And he tells us this so we will know we can be close to God in freedom and peace and happiness. 
15 For we do not have a high priest who is unable to sympathize with our weaknesses, but one who in every respect has been tempted as we are, yet without sin. 16 Let us then with confidence draw near to the throne of grace, that we may receive mercy and find grace to help in time of need. (Hebrews 4:14-16)
One final, catch-all promise
If you are in a spiritually dark place then Romans 8 is a wonderful place to rest and meditate and pray. You could live in this chapter for days and weeks at a time and never plumb the depths of its goodness for your soul. Here's the culmination  of the chapter:
38 For I am sure that neither death nor life, nor angels nor rulers, nor things present nor things to come, nor powers, 39 nor height nor depth, nor anything else in all creation, will be able to separate us from the love of God in Christ Jesus our Lord. (Romans 8:38-39)
Promises Future
When we think of promises, this is likely the category that comes to mind most readily—the ones that look ahead at better things to come.
So here is the picture one particular passage in Revelation paints of what we can gladly look forward to:
Then I saw a new heaven and a new earth, for the first heaven and the first earth had passed away, and the sea was no more. 2 And I saw the holy city, new Jerusalem, coming down out of heaven from God, prepared as a bride adorned for her husband. 3 And I heard a loud voice from the throne saying, "Behold, the dwelling place of God is with man. He will dwell with them, and they will be his people, and God himself will be with them as their God. 4 He will wipe away every tear from their eyes, and death shall be no more, neither shall there be mourning, nor crying, nor pain anymore, for the former things have passed away."

5 And he who was seated on the throne said, "Behold, I am making all things new." Also he said, "Write this down, for these words are trustworthy and true." 6 And he said to me, "It is done! I am the Alpha and the Omega, the beginning and the end. To the thirsty I will give from the spring of the water of life without payment. 7 The one who conquers will have this heritage, and I will be his God and he will be my son. 8 But as for the cowardly, the faithless, the detestable, as for murderers, the sexually immoral, sorcerers, idolaters, and all liars, their portion will be in the lake that burns with fire and sulfur, which is the second death." Revelation 21:1-8
Reflect on some of these phrases and truths.
And I saw the holy city, new Jerusalem, coming down out of heaven from God, prepared as a bride adorned for her husband. This shouts of beauty and newness and expectation and joy. We should read it with the anticipation of a groom bouncing on his toes, unable to contain his smile at the woman walking down the aisle to marry him.
"It is done!" On this day God will have finished his perfect work. All the hoping will be behind us because everything will be a fully-realized certainty from that day forth and forever.
He will dwell with them. No more will God seem distant—not that he ever was, but we will see him and know it with certainty. His home will be with us and we will be his people.
He will wipe away every tear from their eyes, and death shall be no more, neither shall there be mourning, nor crying, nor pain anymore, for the former things have passed away … I am making all things new. What else could we ask for? All the things that sully or snatch away our happiness will be gone, erased forever. What will replace them will be what was lost at Eden: perfection. We will at last know total, untainted happiness.
But as for the cowardly, the faithless, the detestable, as for murderers, the sexually immoral, sorcerers, idolaters, and all liars, their portion will be in the lake that burns with fire and sulfur, which is the second death. For seven verses God pours out promise after promise of glory and newness and perfection. But then comes this verse. Why? Because we need this kind of "warning promise" We need the reminder that eternity is for all, but glory is only for those who are Christ's—and so we need to keep going in trusting in him. And we need the reminder that God's glory and power is perfect in judgement and mercy alike.
What a promise this passage holds. What a portrait of perfect happiness. What a hope to cling to in the midst of anything we face now. 
Promises and Happiness
God's promises define reality. They draw the lines of hope and happiness. So we must ask ourselves whether our expectations, our pursuits, our definition of happiness aligns with what God has said. When a child yanks out of his parent's grasp in a crowd, runs away, gets lost, and consequently becomes terrified did the parent's presence and care fail him? Not at all. His actions led him away from peace and happiness in pursuit of what he thought was better. Similarly, when we feel unhappy and hopeless it is not because God's promises failed us or because God abandoned us but because we distanced ourselves: we forgot. 
True happiness lies in remembering what God has said and done, so that we can rest in the hope of what God will one day do. And we remember by returning to his promises, his words, day after day, for as long as it is called today (Hebrews 3:13). 
---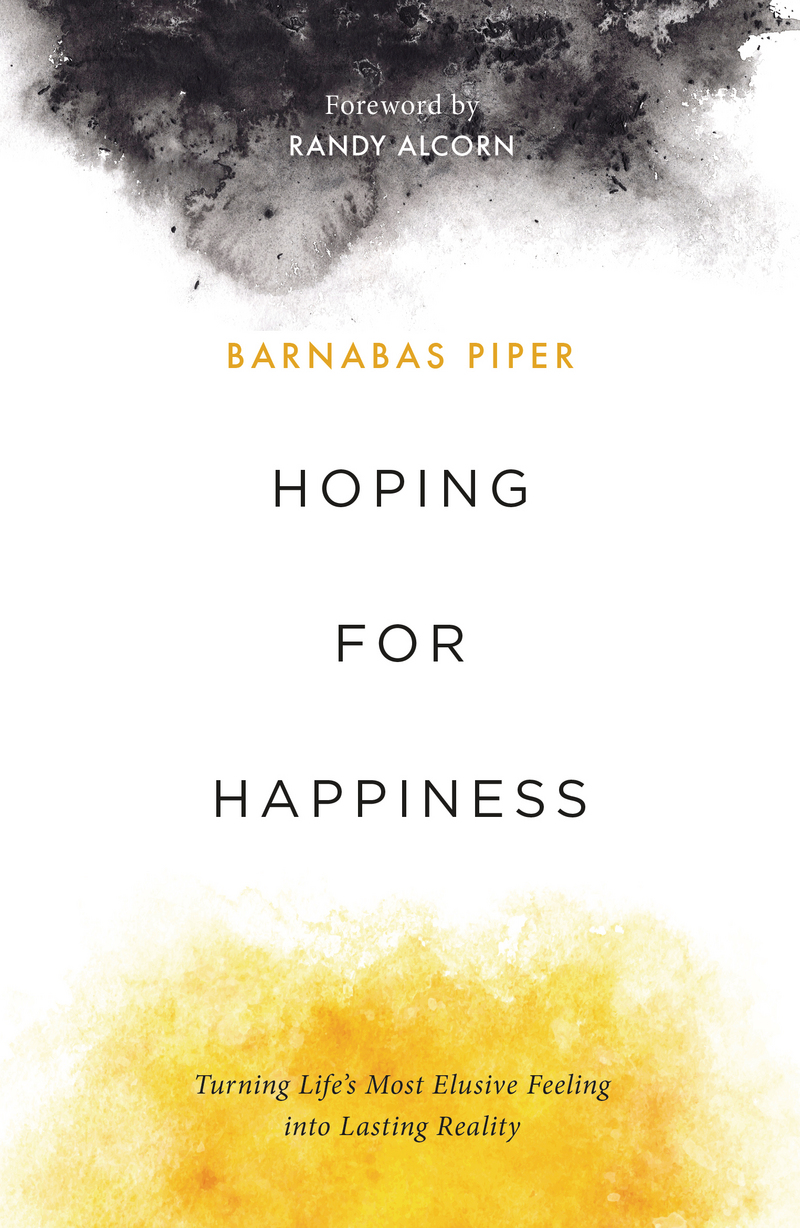 This an excerpt, modified from Hoping for Happiness. A biblical framework for living a grounded, hopeful, and genuinely happy life, this book helps us to throw off both the unrealistic expectations that end in disappointment and the guilty sense that Christians are not meant to have fun.