In this episode of The Happy Rant Ted and Ronnie (sans Barnabas) wander to and fro through a variety of topics:
Record making vs. book writing
Collaboration vs. loner creation
Ministry vs. creative work
Dealing with editors
Collaborative music listening
Things we wish we'd changed in our work
Bogus expectations
Time away to write
TED'S NEW BOOK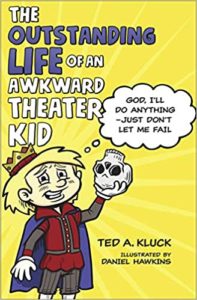 Ted Kluck has released a new book, The Outstanding Life of an Awkward Theater Kid: God, I'll Do Anything―Just Don't Let Me Fail. In his typical insightful, humorous, genuine manner Ted tells a story that will resonate with your nostalgia and your children's present life. It is funny, heart warming, and truly encouraging. You will love it and your kids will too.
Order Your Coffee
WE ARE COFFEE MOGULS AGAIN. We've joined forces with Redbud Coffee, based out of Auburn IL, to bring you deliciously roasted and beautifully packaged coffee. Check out their variety of roasts and be sure to use the code HappyRant at checkout to get a 10% discount off your purchase.
Order your Redbud coffee
Connect with Ted, Ronnie, or Barnabas to speak for your church, organization, or event
Support the podcast through our Patreon page. This helps us cover production and hosting costs so we can keep this thing rolling
To listen you can:
Listen on Google Play
Listen on Stitcher
Listen via just about any podcast app/streaming service out there
Leave us a rating in iTunes (it only takes 1 click and it really helps us).
Listen using the player below.
Episode #301