N.D. Wilson is a filmmaker and the author of several excellent books including Notes From The Tilt-a-Whirl, Death by Living, The Ashtown Burials series, and The Outlaws of Time. Wilson sees the world and truth differently than many people do. He see things in them that other people miss and expresses those things in a fresh, poetic voice. He loves stories and writes great ones; in so doing he expresses the complexities, nuances, tensions, and conflicts of belief. He was kind enough to write the foreword for my book, Help My Unbelief: Why Doubt is Not the Enemy of Faith, which has been updated and expanded and re-releases on 1/1/20. I love what he wrote
---
This book is a tragedy. No, it doesn't end tragically (it is filled with hope), but its very existence is tragic; the author's firsthand experience with the subjectmatter (doubt and unbelief) is tragic. The need for this book is tragic.
Adam ate the fruit, after all, and the world is now full of broken people with broken emotions and broken minds looking at the world out of broken eyes. Every human ever born has had a broken relationship with his or her heavenly Father, all urgently in need of mending. Unfortunately, we spend a lot of our time staring at ourselves to see how we feel about Him and acting as if our feelings have any authority over truth and falsehood. As if taking our own temperature tells us anything about God's.
We have a Father who is trustworthy and good, but we stare at His reflection in whatever carnival mirror we might generate, and we fail to connect, to trust … to truly believe. We struggle to trust Him when things get hard or, as Barnabas Piper describes perfectly in this volume, when things are totally fine and dandy, when we have good families and great churches and whole heaps of head knowledge.
It doesn't matter what all we might have, we are still broken. We disobey. We fail. We sin. And every sinful act is an act of unbelief, a failure to truly live out what we affirm.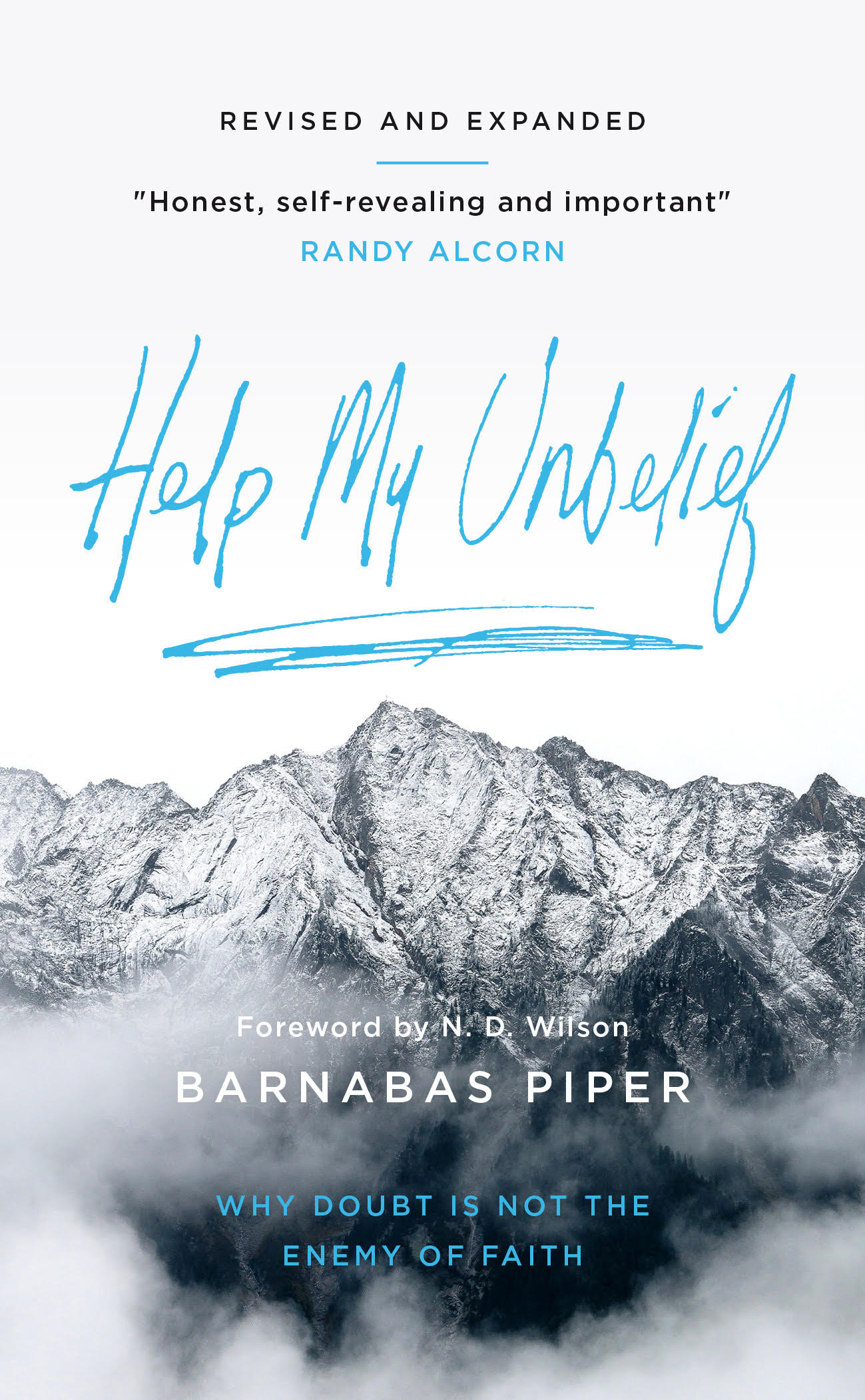 Thank God that our salvation is not dependent on an absence of our own fears. Our failures. Our doubts. In fact, our salvation is not dependent on us at all. It doesn't depend on how we feel. It doesn't depend on how well we answer challenges and questions, and it doesn't depend on how deeply and authentically we really, really feel our answers deep down in our hearts.
Our salvation is on the cross. No matter how broken we may be, no matter how much we might struggle and fail to see and to know the truth (every truth) clearly, we can rest in the One who sees all and knows all. When we cannot see, we are still seen. Even when we stare at our own sputtering joy (and the more we stare, the more it sputters), so intently that we lose sight of the cross, the One on the cross does not lose sight of us.
We are His. We cost Him everything. And His clear eyes will never lose track—or ownership—of what He purchased. His confidence never wanes. Feel how you may, struggle how you may, once bought, once loved with His blood, you cannot slip from His hands.
For those who are His but still doubt, for those who have ever loved Him but disobeyed, the task is as simple as it is impossible for us to do on our own. We are to see as clearly, to love as surely, to rejoice as confidently, and to know the Father as fully as He does.
It is the journey of journeys, the trek we shall never finish, and it begins today, with one foot lifted. Now the other. Repeat. The answer to all your doubts and failures begins here: You are not the answer. He is.
Do you want to believe? Then you already do. And that is the beating heart of this book.
Belief is from Him. Ask for it, and in the asking, you have already received.
Do not worry about your own weaknesses. Stop fearing your own sickly reflection and your distressingly philosophical navel. Ignore your empty emotional hands. Those are your qualifications for His grace. His hands are full. And you are in them.
Lord, I believe. Help my unbelief.
And so it will be until the graves are emptied.